(Final Order)
Do not hit the "Back" button as it will cause errors in your order.
The #1 Thing MISSING From Any Rehab Program – Fixed.
Fight Inflammation, Improve Recovery And Get Even FASTER RESULTS
with the 14-Day Pain Free Diet… and Save BIG!
Congratulations on making a phenomenal decision to invest in the Fixing Wrist Pain System!
Because you have chosen to take action today, you have a one-time opportunity to upgrade your order to include this unique nutrition program developed by my good friends Dr. Tait and Nick Pineault: the 14-Day Pain Free Diet.
Very few people talk about the connection between pain and food. The truth is: certain foods you eat every day might be one of the root causes of your pain that's still lurking around.
I wouldn't be surprised if the idea of a pain-killing diet sounded very new to you.
There's nothing like this program on the market – and even your doc might not know how to kill pain with food, instead of dangerous pills or surgeries.

The 14-Day Pain Free Diet Includes:

Component 1: The 14-Day Pain Free Diet Manual ($97 Value)

In this user-friendly manual, you'll learn about the unique S.O.S. Method Dr. Tait uses with his patients to fight inflammation and dramatically reduce pain in as little as 14 days.

Component 2: 14-Day Pain-Killing Recipes Guide ($47 Value)

Dozens of mouth-watering pain-killing recipes that use just a couple of ingredients and can be prepared in minutes – even if you're the worst cook ever!

This is what the Pain Free Diet is all about – using the power of food to fight off inflammation and double the results any rehab program would give you.

Component 3: 14-Day Meal Plans ($47 Value)

These follow-along meal plans remove any guesswork. You'll know exactly what to eat during the 14 days of the program.

Component 4: Shopping Guide ($47 Value)

This detailed guide tells you exactly what foods kill pain more than others. No need to spend hours reading food labels and wondering if you're making the right choice. We took care of everything.

Also, you'll learn exactly where to shop for some little-known anti-inflammatory foods that will help you accelerate your results even more.

Component 5: Shopping List ($17 Value)

Make sure you have everything you need for the program with this shopping list you can take with you to the grocery store.

Bonus 1: Quickstart Guide ($17 Value)

Remember how painful and excruciating the waiting room feels every time you go pay the doc another visit? We've all been there.

This quick start guide simplifies the program and gives you a blueprint to get started right away killing pain with delicious anti-inflammatory meals.

Bonus 2: The Food Label & Allergy Guide ($97 Value)

The 14-Day Pain Free Diet will help you identify certain allergenic foods that increase your pain and inflammation – even if you are consuming them just "once in a while".

This 60+ pages guide reveals all the HIDDEN sources of common and potentially dangerous allergens like gluten, dairy, soy, MSG, sulphites, peanuts, sesame seeds, and much, much more. Manufacturers CONFUSE and mislead consumers by calling certain ingredients by dozens of different names.

This guide alone is worth more than the price you'll pay for the entire program.

As you can see, the total value of the 14-Day Pain Free Diet is $366.
But once again, we really want to see you experience success and end your wrist pain as fast as humanly possible, so we're going to offer you the entire 14-Day Pain Free Diet not for $366, but at more than 87% off the retail price.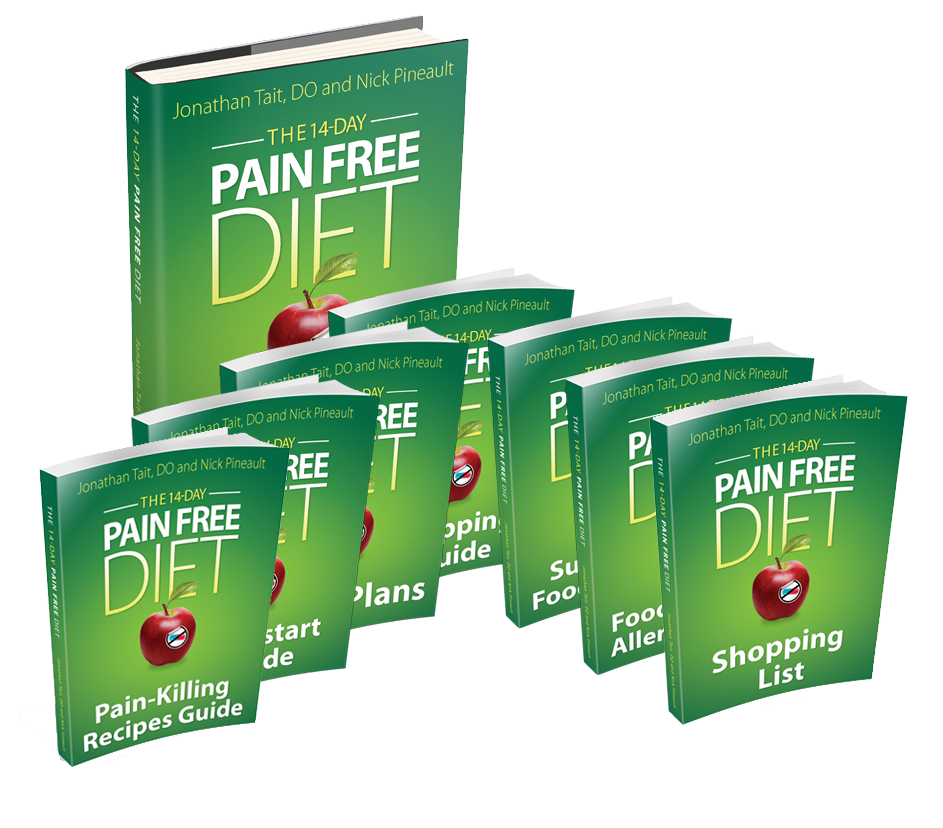 $17
Yes! Add the 14-Day Pain Free Diet for just $17!
No thanks. I understand that this is my only opportunity to get access to this information at this price and I'm okay with missing out. I understand that after declining this offer, the 14-Day Pain Free Diet might never be made available to me again at that heavily discounted price, even if I beg for it. I will pass on this forever.